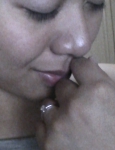 You know how they say that it's a girl's biggest dream to be married to his prince charming.. to his knight in shining armor.. to his soulmate, et cetera. Well, it's not necessarily true for me. It was not my biggest dream because I always just wanted to be happy, whatever it takes. But I always picture myself marrying the man I love someday. I always imagine myself walking down the aisle getting lost in what might be every girl's fantasy. I would dream of different scenarios on how that moment would come - grand, simple, what have you, when the right guy finally asks me to be his. The thing is, you never really know until that moment finally comes and honestly, I don't remember it clearly. It was like time stopped and I turned deaf for a few minutes until reality slaps me in the face and he's right in front of me asking me those very words that every woman wants to hear, "Will you marry me?"
It even took me a few seconds to respond not because I have doubts or fears or anything, but because I was surprised. I always knew that moment would come, I just didn't know when. I always try to imagine how it's going to be once he kneel down on his knees. I rehearse in my mind all the possible response I could give. What if I'm not ready? What if the time is not right? What if we're not really meant to be? What if? And that time I wasn't expecting it. It took a few seconds for me to recollect my thoughts and say, "Yes."
That would be one of the most unforgettable moment in my life. Not because it happened somewhere special or that it was orchestrated in a way that would seem almost magical and even expensive, but because I never really thought that moment would come into my life. That someone would fall so deeply in love with me to ask me to be part of his life from here on. I always thought I'll never be lucky in love to arrive at this moment where alongside my keyboard I'm drafting seating plan for my wedding guests. I always thought I'll become an old maid, granted I actively date and I was constantly in a relationship, but those never really last. And I tend to be too picky and critical with what I want. And frankly it gets tiring. You get to a point in your life when you just want to sit down, watch life as it goes by, and have someone to share a drink with. And he's the one. He's my 'the one.' So I guess I got what I always dreamed of after all... to be happy. Because he makes me happy.