CR1 Visa Process (via US Embassy Manila)
CR1 (Conditional Resident) - This is the immigrant visa that you could apply for if you are a non-US citizen married for less than 2 years to a US citizen or a lawful permanent resident of US. The visa itself acts as a green card valid for 1 year (if you haven't applied for the green card yet). Once the green card fee is paid, the green card that comes with this visa is only temporary and valid for just 2 years, and you have to apply for removal of conditions before it expires to get the permanent (10-year) green card. This visa, that comes with a green card, allows you to enjoy benefits and privileges of a lawful permanent resident of the US such as applying for a social security number, getting a driver's license, opening a US bank account, buying properties, getting employed and others.
And to be able to apply for this, your USC husband/wife has to file a petition (Form I-130) to the US Embassy in your country.
Additional Note: Since this walk-through is mainly about the CR1 (spouse visa) process done via direct consular filing, make sure first that you meet the requirements to be eligible to do this - one of which is staying (not necessarily residing permanently) in the Philippines for 6 months or more.
I've been an active member of VisaJourney Forum since the day we filed a petition for a US spouse visa and a lot of the members there has been asking about our experience since it seemed to be fast-paced, it almost seemed like it's too good to be true. I know I'm not alone and I'm pretty sure there are a lot out there who share a similar experience. I just wanna share ours - what we went through, the requirements etc., as well as mistakes and lessons learned that could have saved us even more time, as I know it can get confusing especially if you get mixed information. Let this serve as a step-by-step walk-through and I hope to be of help to current and future applicants. Disclaimer: I'm not an expert on this, this is just a personal experience. Sometimes, there are cases that would actually require an immigration lawyer, by all means, do so.
March 5, 2016 - The Wedding
The moment my husband proposed to me, we knew then that we're gonna start our life together and build a family in the US. Don't get me wrong, Philippines is great, but there are just more opportunities waiting for us in the US. And I'm surely gonna miss all the traveling around Philippines that I often do.
A little background about us - NO, I did not marry my husband to get a green card. I have a pretty much comfortable life in the Philippines and I'm financially independent myself. This is not some success story. My husband and I first met at a camping trip here in the Philippines (as we both love to travel), we dated, we fell in love, he moved in with me. Fast forward 2 years later of him living in the Philippines, we got married.
We had a Christian wedding at Island Cove Hotel and Leisure Park in Kawit, Cavite. I've always wanted to get married in a Catholic church, but since we have different religions, we opted for a Christian wedding. It's like a civil wedding but with the solemnity of a church wedding as it was presided by a pastor and we were also able to do all the traditions in a typical Filipino wedding as it is more flexible which made that day lovely. Which is actually a good decision looking back now, as it had saved us all the time and hassles of the processing required for a Catholic wedding.
Requirements - to get a marriage license:
(For my USC husband, then fiancee)
1. Affidavit in lieu of legal capacity for marriage (it's their counterpart of CENOMAR; my husband got it from the US embassy, just schedule through Infopass). Pay a fee of $50 or peso equivalent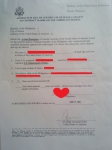 Sample Affidavit in Lieu of Legal Capacity for Marriage
2. Original and photocopy of Birth Certificate
3. Original and photocopy of US passport
4. Recent 1 x 1 photo
5. Marriage license application form (issued by the LCR office)
6. Valid ID and photocopy, preferably ACR card
(For Me)
1. Original and photocopy of NSO/PSA Birth certificate
2. Original and photocopy of NSO/PSA CENOMAR
3. At least 2 valid IDs and photocopies
4. Recent 1 x 1 photo
5. Marriage license application form (issued by the LCR office)
(other websites tell you these are also required...)
a. Community Tax Certificate or Cedula (1 original and 2 photocopies).
b. Barangay Clearance (1 original and 1 photocopy)
They didn't ask us for a cedula or brgy. certificate, but it never hurts to be prepared. You may also be required to attend a pre-marital counseling but we didn't attend that. The Local Civil Registrar (LCR) said we don't need to as we both are in legal age to get married and we've been living together for 2 years. Take note, marriage license is only valid for 3 months, so time your wedding preparations well.
We got our license after a week. I think we paid around Php500 (I'm not sure I can't remember). After that, we got everything planned and finally, we got married. Small, lovely wedding, attended only by family, relatives and a few close friends. We made sure we had a lot of photos. :)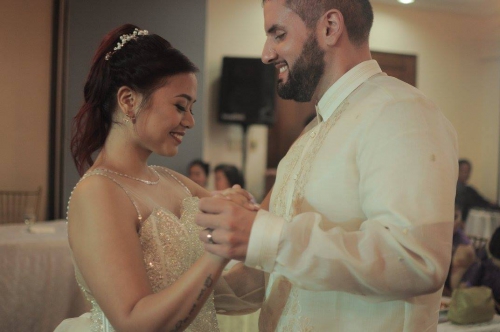 *If you're interested with Island Cove's wedding package, you may send them an email to inquire. Check their website at Island Cove Hotel & Leisure Park
>>>Filing Petition I-130<<<
Steps:
1. Get a marriage certificate from NSO/PSA
*After our 2-week honeymoon hiatus, we decided to call NSO/PSA and ask about our marriage contract/certificate of marriage. Normally, they would say it would take around 6 months to a year before it gets registered (since we just got married), appear in their database and for you to request it. But what we did is, we requested for them to expedite it because we're gonna need it to apply for a visa. They agreed and told us to go to the local registrar's office in the municipality where we got married (in our case, Kawit) and ask them to forward it to NSO/PSA. So we went to Kawit, requested them to forward our wedding details to NSO/PSA, I think we paid around Php200 for them to process it, and was told to wait for a week. We called NSO/PSA every now and then for updates, and sure enough after a week, we called and they told us that our marriage has been registered in their database and is now ready for pick-up. We went to NSO/PSA, paid the fee of Php140 and voila! Our marriage certificate was on hand by end of March.
**I suggest, when you're on your way to get a Marriage Certificate at the NSO/PSA, get a CENOMAR as well (I know it doesn't make sense coz you're already married but trust me, you'll need it later for the interview). It would save you a great deal of time. Now that you're registered as married, instead of the CENOMAR, they would give you a certificate of "Advisory on Marriages". It's not listed under the forms that you normally get from NSO/PSA in their website coz they also kinda refer to it as CENOMAR.
2. Gathering documents
We wanted to save time and avoid possible delay, or worse, denial, so we made sure before we even go to the US Embassy to file our petition, we have all the documents we need. We downloaded all the forms and filled it up before going to the embassy. Don't worry if you miss anything on your form, the lady at the counter in the embassy will check it and you can just fill up what's missing using a black inked pen.
Here are the requirements for filing a petition for a Spouse visa (Form I-130):

(For USC husband/wife)
1. Proof of residency (min. 6 months of residency in the Philippines is required to be able to file via DCF or direct consular filing)
This could be ACR card, rentals or leases for house or business here in Philippines, utility bills, proof of permanent residency etc. Have everything photocopied.
*In our case, my husband submitted a photocopy of his ACR card, photocopies of visa extensions, photocopies of membership cards with Philippine address (Puregold, GNC), bank statements showing withdrawals done in the Philippines
2. Filing fee of $420 USD or peso equivalent. You can pay it at the cashier in the embassy upon filing.
3. Proof of US citizenship - photocopy of passport biopage and all pages with stamps, photocopy of birth certificate, US IDs (optional)
4. Filled up Form G-325A (downloadable online Form G-325A)
5. Recent 2x2 photo on a white background
6. Filled up Form I-130 and signed by USC petitioner (downloadable online Form I-130)
(For spouse)
1. Filled-up Form G325A (downloadable online Form G-325A)
2. Recent 2x2 photo on a white background
3. Photocopy of NSO/PSA Marriage Certificate
4. Photocopy of passport biopage
5. Photocopy of NSO/PSA Birth Certificate
6. Proof of marital relationship - photos, documents showing co-mingling of financial resources
*In our case, we presented 4R photos glued on a white bond paper with dates and captions; we included wedding photos, our travel photos, photos with family and friends. We also included Western Union receipts of money he sent me when we were looking for a house in the Philippines while he's in the US for thanksgiving vacation, and photocopy of pages in our passport showing stamps of our travel together (we traveled together in Bangkok).
**Remember to have all documents photocopied along with the originals as they would only take photocopied documents. Make sure to have everything ready before going to the embassy and don't stress out. The lady receiving your petition can come across as intimidating, and for a lack of a better word, "bitc*y". She would tell you it would take 30-90 days for them to process and if it would even get approved, but don't worry that's just a pretty generic reply. Our petition got approved 7days after. :)
!!!Also, don't forget to get an appointment first before you go to the US Embassy. You can schedule an appointment through InfoPass. Print out your appointment schedule and bring it with you along with your documents when you go to the embassy to file your petition I-130.
You can organize your documents in an accordion envelope for easy retrieval. You won't have to give it to the person collecting your documents as you would only slip through the narrow hole at the counter all the paperworks she's gonna ask from you.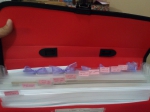 April 15, 2016 - petition filed then the waiting game..
Instead of obsessing and stressing about it, now's the time to do researches. Prepare all the documents for the interview. Join forums such as VisaJourney to gain insights and get advice from others who are on the same boat. Coz once you get a case number, trust me, it can get very fast from there.
April 22, 2016 - we received an email from USCIS that our petition got approved (Notice of Approval)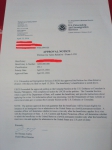 But you still can't do anything without a case number. Again, take the time to prepare your documents especially your Affidavit of Support (Form I-864). Also, I would suggest printing out all the emails that you get from USCIS, embassy etc.
Requirements that you should be preparing at this point:
1. Form I-864 or Affidavit of Support. This is downloadable online Form I-864. Make sure that your petitioner's income is above the poverty guidelines per household size. You can check it at the USCIS website Form I-864p.

*My USC husband is a US veteran and is currently unemployed since he got out of the army and started traveling. He is currently studying and taking an online course under GI Bill. Since his military pension and school financial assistance under GI Bill are non-taxable, we prepared a letter of explanation for non-filing of taxes with supporting documents (IRS page that explains tax exemption, military documents and certificates showing eligibility for disability compensation, documents showing enrollment in University of Phoenix Online Campus etc.)
Since USCIS is strict about the Affidavit of Support and it's a major requirement that you show tax returns, we opted for a joint sponsor.
For the joint sponsor, his/her income should also be above poverty guidelines per household size. You can't add up incomes unless you belong to the same household. So my husband filled up a form I-864, and the joint sponsor also filled up a form I-864. Now, if there's another member of your household who is willing to add their income to support, he/she will fill up form I-864A along with the principal sponsor (your petitioner)'s form I-864. But it is really important that the principal sponsor's income is sufficient, otherwise, you'll most likely be denied a visa. Assets such as bank savings and liquidated assets can also be included.
2. NBI Clearance with AKA, with purpose for "VISA USA"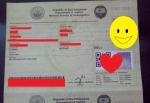 3. CENOMAR/Advisory on Marriages for VISA Purposes, if you don't have it yet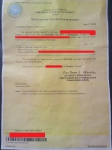 4. Proof of domicile - since your USC petitioner has lived abroad for a time (6 months or more), he/she has to show proof of domicile to US or intent to re-establish domicile to US. This can be properties or residence in the US, business in US, membership in any US organization, possible employment in US, US bank accounts and credit cards etc. Here's a sample/template for writing a letter to prove domicile letter for domicile template.docx

May 2, 2016 - after 10 days, we finally got our MNL case number!
Follow the instructions in the email and with a case number, you can now proceed to do the ff:
- fill up the DS-260 online registration form at CEAC
- schedule your interview at http://www.ustraveldocs.com/
- schedule your medical exam (ideally 1 week before your visa interview) at St. Luke's Extension Clinic website SLEC
There are others who scheduled their medical exam just 2 days before their interview. Yes it's possible and it worked for some, but I always err on the side of caution. And I'm thankful I did coz I had issues with my medical which I would discuss further later.
*At this point, you should have filled up your DS-260 and have registered your delivery address for your visa. You can do all that here CEAC and http://www.ustraveldocs.com/ph/
Print out the confirmation page (I suggest you print 2 copies - coz SLEC also asked me for a copy). Schedule your interview with the embassy, print out the Appointment Letter (I suggest you print 2 copies as well). The whole DS-260 pages is not required to be printed as the consul would refer to it on the computer as you are being interviewed, but I still printed a copy (to be sure).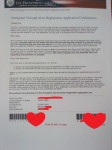 sample DS-260 confirmation page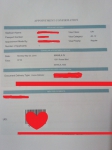 sample Appointment Letter
May 3, 2016 - St. Luke's Medical Exam
*They don't do appointments, it's first come first serve basis. But you would have to fill-up a registration form in St. Luke's website SLEC and bring it when you decide to go there for your medical exam.
Requirements:
1. Php 11, 300 medical fee
2. SLEC registration form
3. Appointment Letter for your visa interview
4. Passport, and photocopy of your passport biopage
5. DS-260 confirmation page
6. 4 pcs. recent 2x2 photos on a white background
7. (Optional) Vaccination record, recent old x-ray film for comparison
Now this is probably the longest, most time-consuming step of all so you really, REALLY, have to be patient. Bring gadgets with games with you if you will coz you're in for looong hours of waiting. I think I went there around 8AM and I was done by 3PM for Day 1.
The medical examination happens in 2 consecutive days so plan your schedule accordingly. The first day is when you get most things done and on the next day is when they give your vaccinations and medical result. Also, if your USC husband or wife is here in the Philippines, I advise you not to bring him/her with you to SLEC coz they only allow people who registered for the medical exam inside.

Medical Exam Experience: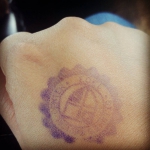 Present your papers to the guard and he will advise you which window to go to. Then submit your documents and get your photo taken in one of the counters at the ground floor. Proceed to pay the fees at the cashier at the 5th floor. Here's a printable version of the workflow for that day for easy reference SLEC Workflow
These are the tests/steps that you should accomplish for the day.
- chest X-ray
- vital signs (bp, temp, height and weight)
- eye test with snellen chart
- laboratory (CBC, urine for PT)
- physical exam and interview with the doctor
- immunization interview

Don't worry coz your payment receipt also has a list of things you need to get done and it serves as your "checklist", coz you get it signed at each station, so you can better monitor your progress.

Piece of advice: Before you even plan your trip there, take note of the first and last day of your last menstruation coz they ask that in every step. Also, take note of the frequency and date of your last sexual contact.

After day 1, they would usually tell you to come back the next day for your vaccination and results, but in my case, they asked me to wait until I get my period for that month and just come back once I get my period because they won't give you vaccines if they suspect pregnancy. Apparently in my case, I was fertile during the dates I reported I had last sexual contact so, they just want to be sure. Again, another piece of advice, if you can keep it in your pants at least a month before and after you're done with your medical exam the better. Because you also cannot get pregnant within 28 days after you got vaccinated. Vaccines contain live viruses that are harmful to your child.

So after a week, when I finally got my period, I came back. The guard stamped my receipt "for immunization" which is almost always good news because it means that you basically passed your medical exam and just needs to get vaccinated. If you get a stamp that says "Sputum" then that means they found something in your chest x-ray or they suspect TB and this could greatly delay your visa process by 2 months to 6 months because you would have to undergo treatment for that before you can continue.

So I went to the immunization doctor, agreed for a pregnancy test, after the result showed negative I proceeded with my immunization.
As per protocol, they usually administer 3-4 vaccines:
1. MMR
2. Tdap
3. Influenza
4. Varicella (if you don't have a visible scar from chickenpox)

If you don't have your vaccination record from birth as we most don't, it's alright. The immunization record SLEC will provide you would serve as your record that you can present when you travel to US should they ask to check it.
By the end of day 2 you should have:
1. Immunization record
2. Sealed brown envelope that you are instructed not to open and that you're supposed to bring to the interview
3. Sealed CD of your chest x-ray that you are also not allowed to open or tamper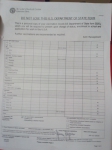 Immunization Record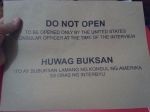 Medical Result (in sealed brown envelope)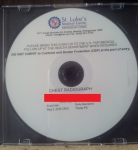 CD of chest X-ray
CFO Seminar - May 5, 2016
So while I was waiting for my interview date, I decided to go ahead and do the seminar already, to get it over with.
If you are married to a USC and hopes to update your passport to use your married name, you are required to attend this seminar. It is also required before you are allowed to travel out of the Philippines and migrate to US after you get your visa. You can attend the seminar after you get your visa or even while you're still waiting for a visa. All you need to do is schedule an appointment in their website CFO, and bring the following requirements:
1. Original and photocopy of your passport
2. Printout of appointment schedule
3. Original and photocopy of your NSO/PSA Marriage Certificate
4. 2 valid IDs and photocopies
5. Counseling Fee of Php 400
This is usually a half-day seminar. You submit your documents, get your photo taken. Then you are called one-by-one for individual interviews (about you and your husband - sort of like visa interview as well). After everyone's done, the counselor conducts the group seminar/counseling which usually takes about 1-2 hours. Then you proceed to the ground floor to pay the fee and claim your certificate.
I advise you not to bring your USC spouse with you coz they won't be allowed inside and will just be told to wait outside until everything is finished.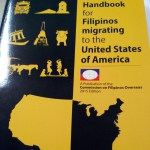 Handbook they give away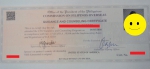 Sample CFO Certificate
Since I don't have a visa yet at that time, I only get the certificate. After I get my visa, I have to come back to the CFO Office (no need to set an appointment next time) to register and get my sticker for my passport.
Again, this is important because they won't let you out of the country without the sticker, even with a visa.
Don't worry, you'll only have to attend the seminar once and the certificate is valid for life.
May 12, 2016 - I finally received an email from the US Embassy in Manila with instructions or checklist of requirements that I need to bring for my interview, which are as follows:
1. NSO/PSA Birth Certificate
2. NSO/PSA Marriage Certificate
3. NSO/PSA Cenomar (Advisory on Marriages)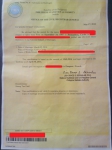 Sample CENOMAR / Advisory on Marriages
4. NBI Clearance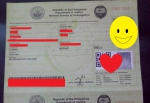 5. DS-260 confirmation page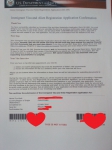 6. Valid passport
7. Medical examination results (the sealed brown envelope)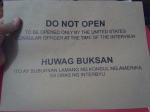 8. Application fee of $325
9. Affidavit of Support (Form I-864) filled up and signed by USC petitioner/principal sponsor
*We prepared my USC husband's Form I-864 including a letter of explanation for non-filing of taxes, and
Affidavit of Support (Form I-864) filled up and signed by joint sponsor including supporting documents: W-2 forms for most recent, US Federal Income Tax return for most recent and evidence of current sustained income.
Specifically, Form 1040s for 2015, W-2 for 2015, and evidence of finances or employment like pay stubs, Certificate of Employment, letters bearing company letterhead etc. We prepared tax documents for years 2013, 2014 and 2015 just to be sure, and since Form I-864 asks for last 3 years' filed taxes, they might need supporting documents for said entries. We also included a letter of consent from our joint sponsor that he agrees and bears responsibilities for his signed Form I-864.
10. Appointment Letter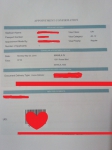 *I have everything photocopied just in case :)
**Even though USEM didn't include it in the list of requirements that we have to bring for the interview, I still prepared the following to be sure:
11. Proof of domicile
In our case, we prepared a cover letter stating intent to re-establish domicile to US with supporting documents such as my USC husband's US bank account and credit card statements, US driver's license, VA membership ID and other military documents (as he is a US army veteran), enrollment papers from University of Phoenix where he currently studies online under GI Bill, and letters of invitation from his family in the states showing the address where we're gonna reside once we arrive to the US.
12. Proofs of authenticity of marriage. These could be photos, emails or chat logs (if you've been apart for a long time), co-mingling of financial resources. In our case I prepared the following:
Co-mingling of finances - flight tickets of our trip together to Bangkok, 2GO tickets of our travel together to Boracay, business contract for the restaurant business we ran before bearing both our names and signatures, contract of agreement from Island Cove where we held our wedding bearing both our names and signatures, bank statements indicating our withdrawals/expenses for our wedding.
I also included print-outs of FB chat logs between me and my husband's mom and sister to indicate close ties. As well as a print-out of chat logs of me and my husband when he went back to the US for thanksgiving and short vacation with his family.
And of course, lotsss of photos! Photos of us as a couple, photos with family and friends, and wedding photos.
I organized our photos in a scrapbook, with dates and captions so it's more presentable. :)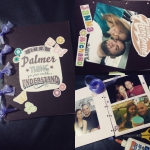 Again, I organized my documents in an accordion envelope for easy retrieval.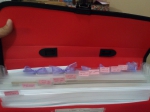 - INTERVIEW DAY - (MAY 23, 2016)


My USC husband and I went to my interview schedule at the US Embassy in Manila. Over-all experience was smooth. We got there around 7:15AM for our 7:30AM appointment, just in time coz they just started letting people in for 7:30AM sched.

Since we're doing CR1 via DCF, it has been a pretty fast-paced journey for us, even the interview.
First, you fall in line outside in the "Immigrant Visa" lane, show your passport, appointment letter and DS-260 confirmation page. They put your passport in a resealable plastic bag which you carry with you until the final step.

Then inside, you get scanned, get your bag checked.

After that, you go to a booth to get a number and they will tell you to proceed to Window 38.

Everything was done at the ground floor.
Step1a: Data entry/review

Step1b: Fingerscanning

Step2: Pre-screening
This was done by a Filipino consul. He asked for all my original documents - Marriage Certificate, Birth Certificate, Advisory on Marriages/CENOMAR, NBI Clearance and the Form I-864s of my petitioner and joint sponsor. The CO just took the 1040 and W-2 for 2015 (most recent). My husband paid $325 IV processing fee at the cashier.
Step3: Oath-taking with an American consul

Step4: Interview with an American consul

He mostly asked about us, how we met etc. The questions really depend on case to case basis.

*Then that's it! We got approved and free to go home if we have no further questions. Since we already registered a delivery address online, and you also fill up that part on the DS-260, there's no more step 5. So don't forget to register a delivery address! Otherwise they won't be able to deliver your visa. To register, visit http://www.ustraveldocs.com/ph click "Select Document Delivery Address" under Immigrant Visas section.


We're done by 10am. It took us about 2 1/2 hours all in all :D
**Issues (I got paranoid about in the past):
1. Inconsistencies of name - It actually didn't matter. The pre-screener and even the American CO didn't care that my passport is in my maiden name while the petition and DS-260 used my married name. No need to update the passport.
2. Different signatures - yeah.. coz I got so eager to sign in my married name already I forgot my passport bears my old signature and I signed with my "married" signature in all the forms I had to fill up. BUT, it didn't matter. They hardly paid attention to it.
3. NBI Clearance - I gave one that has no AKA, just with my maiden name and husband surname. Doesn't matter. They still accepted it. I guess it only matters when you have been married before. And it also doesn't matter whether you put "Travel Abroad" or "Visa USA", both acceptable.
4. Birth Certificate - I was worried that whether NSO or PSA stamp would make a difference. Nope, not really.
5. CENOMAR - My advisory on marriages (CENOMAR) said "For passport/travel" instead of "Visa Purposes". Again, it didn't matter. They saw a yellow form and that's it. They didn't really looked into the details as much.
Last but not the least,
6. Form I-864 (original vs. scanned) - I brought scanned forms sent by my joint sponsor. They still accepted it. They just asked if the signature is original. I said yes, it's original, my sponsor really did sign it even though it's a scanned copy. I don't know how that made sense but they didn't ask any more questions and accepted it.
Still, I strongly and highly encourage applicants to only submit ORIGINAL copies (not photocopied or scanned) of the Form I-864. It has to have the original/wet signature. It was a mistake in my part that I brought scanned copies and I just got lucky to get away with it.
Meaning (it might not be the quicker route but it is the safest): If you're sponsor (petitioner/joint sponsor) is in the US, ask him/her to download the PDF of the Form I-864 and fill it up. Sign it with a black inked pen. And deliver it to you via FEDEX, DHL or UPS.
At the end of the day, our visa got approved! Maybe we just got lucky. Or maybe over-preparation paid off. I guess as long as you have all documents they could possibly ask for, you're good. Especially all original ones - BC, MC, CENOMAR, NBI. Plus, I think it helped a lot that my USC husband was with me the whole time during the interview, coz they ended up asking him questions than me. Plus it helps to prove a bona fide marriage as having your USC spouse at the interview they see right there physical proof of your relationship :)
From this point on, you can keep track or check your visa status at CEAC or at CGI link http://cgifederal.secure.force.com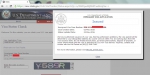 You can track your passport once visa is issued to know it's progress with 2GO using this link e-Trace, just enter you passport number, UID (found at Appointment Letter) or MNL case number. Just remember that it could still take 7-10 working days so be patient :)
June 6, 2016 - my passport finally left the US embassy and 2GO finally showed status of my passport: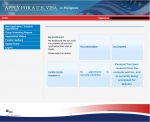 status update at http://cgifederal.secure.force.com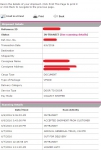 status update at 2GO website
June 7, 2016 - Visa on hand! Got a text message from 2GO in the morning stating my passport is on its way, and after a couple of hours, it was delivered to my home by 2GO.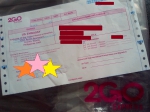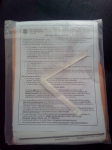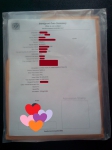 Sample Immigrant Data Summary (inside and connected to the visa packet; DON'T take this out)
You'll notice that there is a page with a big warning that says NEVER ever open the yellow envelope (the visa packet) because only Custom and Border Protection (CBP) officers are allowed to open that upon arrival at your port of entry (POE). So be careful in handling your package. What I did is, I slit a slight opening at the bottom, just enough to be able to pull out my passport, and re-sealed it with a clear tape. You can tear, remove or whatever you need to do to the plastic outer covering to retrieve your passport with visa, just be careful not to damage the yellow envelope. It could cause major delays, or worse, refusal of entry to the US if the CBP officers suspect that it has been tampered. I just decided to keep the packet in the plastic covering still to safeguard all the contents.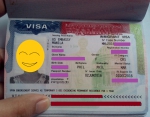 CR1 Immigrant Visa
GREEN CARD
Now that you have your visa, it is advisable that you pay the green card fee right away, which is $165. All you need are your alien registration number and your case (MNL) number, which you can both find in you Immigrant Data Summary. You can also do this after you've already arrived in the states, but it is more advisable to pay it before you leave because your green card starts processing as soon as you pay it. Cutting the time it takes to be delivered to your US address.
You can pay it and track its status at the USCIS Elis site here - https://public-prod-elis2.uscis.dhs.gov/efile/app/app/iv/#!/
Next step is registering at CFO...
Since I attended the seminar without my visa yet, they only gave me the certificate. So I have to come back to register and finally get my CFO sticker coz like I said before - you cannot leave without this!
Additional requirements are:
1. CFO certificate and receipt
2. Original and photocopy of passport biopage
3. Original and photocopy of visa on passport
4. Clear photocopy of Immigrant Data Summary
5. Filled up and signed Emigrant Registration Form - provided at CFO office and also dowloadable online (CFO Emigrant registrationform.pdf)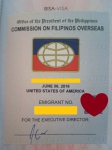 sample CFO sticker on passport
Final Step.... Port of Entry
In other words, finally flying and making your first entry to the US! Just don't forget to pay the travel tax (Php1620) and terminal fee (Php750) at the airport before your flight. All Filipinos traveling outside the country are required to pay these. For your USC spouse, s/he is not required to pay a travel tax unless s/he has stayed in the Philippines for a year or more. S/he only pays for the terminal fee. S/he also needs to secure an exit clearance from the immigration before departure.
Here's a helpful video that a fellow VJer shared with me about entering the US, what to do/expect at your port of entry:
>>POE: Chicago O'hare - June 13, 2016<<
In terms of fees prior to departure from Manila, I only paid the travel tax which is Php 1620. I guess the terminal fee is already included in the tickets. Just always make sure whether your ticket cover all the fees, check the details and always be prepared before hand, financially etc.
With regards to POE, my entry to Chicago has been a pretty smooth one. When I got to the airport, CBP officers are everywhere giving you information and directing you where to fall in line. Once I reached the counter, the CBP officer just checked my passport and visa and my customs declaration form (the blue form given out in the plane prior to landing or you could also get and fill this up upon arrival at the airport). The CBP officer scanned my fingerprints and took my photo. She took my visa packet and directed me to go and wait in another room as they check my documents. After a few minutes, they stamped my visa, told me that my green card will arrive in 2-3 months. Then I picked up my luggage and off I go.
Hello USA!!!
*I received my Social Security through mail a week after. My green card arrived in mail after a month :)