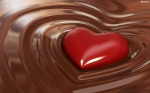 Have you ever looked at someone and feel nothing but happy?
Every day you wake up, turn to your side, and you see this wonderful person first thing in the morning.
You can't help but wonder...this is it. This is the life that I want.
This is the person I want to be with.
This is exactly where I'm supposed to be.
Three years ago when we first met. We shared our fantasies of what life should be.
We were both hopeless romantics.
I listened to your poem for me. You listened to my song for you.
We shared our first kiss.
Years passed and here we are - husband and wife.
We're so eager and excited to build a life together.
We were teenagers soaking up life now adults doing and making responsible choices.
And I couldn't ask for anything else.
I hug you and I feel an overwhelming warmth and sense of security.
And then I'll tease you of being a huggable bear.
I look into your eyes and I feel at peace.
And then I'll tease you of having eyes as green as kiwi.
You laugh and I never felt so contented.
Your kisses speak more than words can say, putting my mind and heart at peace.
You have no idea how much I love you.
You'll never understand the fear that I get hoping everything will last forever and that nothing will ever change.
I never want to lose you.
I never want this inexplicable bliss to end.
So excuse me if I hug you so tight each time as if it's the last I'll see you.
Excuse me if I kiss you and not once pausing to catch my breath.
Excuse me if I want to stare at you and just be with you... and just lose track of time.
When we promised forever, no one told me this is how it's gonna sting.
It's all a mixture of good and bad feelings. But mostly good.
But this will be the last line of this nonsense.
Th high from those mounds and mounds of chocolates is wearing off.
And I'm crashing back to reality.